Les Mills

Les Mills Virtual classes & Virtual Cycle have begun!

BODYPUMP® is the original barbell class, now running in more than 14,000 clubs worldwide.
This program is a proven crowd-puller. It's one of the fastest ways to shape up and lose body fat and ideal for just about anybody who wants to add strength training into their aerobic workout, build lean muscles and burn fat. Its simplicity makes it a great starting point to develop strength, fitness and confidence.
Essence
BODYPUMP is a weights class for absolutely everyone. This form of weight training will make you toned, lean and fit. Using light to moderate weights with lots of repetition (reps), BODYPUMP gives you a total body workout that burns lots of calories. It'll also tone and shape your body, without adding bulky muscles. The rep effect – a scientifically proven Les Mills formula – is the secret to developing lean athletic muscle without the need for heavy weights. The encouragement, motivation and great music you get in a BODYPUMP class will help you achieve much more than on your own! Instructors will show you all the moves and techniques to make your first class safe and fun. You will leave feeling challenged and motivated, ready to come back for more.
Benefits
Shape and tone your body
Improve bone health
Improve your core strength
Getting started?
You can adjust a BODYPUMP workout to your current fitness level:
Start with really light weights or even just a bar
Build up from four or five tracks to a full class
Start slowly with one to two classes a week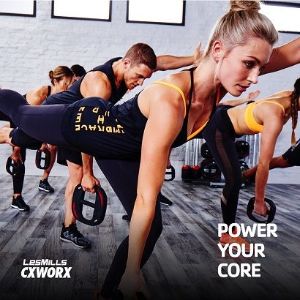 FLEXIBILITY/CORE
Essence
CXWORX provides the vital ingredient for a stronger body while chiseling your waist line. A stronger core makes you better at all things you do - it's the glue that holds everything together. All moves in CXWORX have options, so it's challenging but achievable for your own level of fitness. Trained instructors guide you through correct technique as you work with resistance tubes and weight plates, as well as body weight exercises like crunches and hovers. We also include hip, butt and lower back exercises.
Every CXWORX class emphasizes great technique and awareness so you learn about your body and make it stronger.
Benefits
Stronger core in just 30 minutes
Learn how to activate the muscles responsible for optimal core control
Getting started?
Listen for the options instructors give so you can adjust the workout to your own fitness level.

Essence
LES MILLS GRIT Cardio is a 30-minute high-intensity interval training (HIIT) workout that will improve cardiovascular fitness, increase speed and maximize calorie burn. This workout uses a variety of body weight exercises and provides the challenge and intensity you need to get results fast. LES MILLS GRIT Cardio is scientifically proven to work and the exercises are simple to execute and easy to follow. It will push you to your limits, allow for optimal recovery and then push you again even further. LES MILLS GRIT Cardio takes HIIT and combines it with powerful music and inspirational coaches who will be down on the floor with you, motivating you to go harder to get fit, fast.
Benefits
Rapidly improve cardiovascular fitness
Increase speed
Maximize calorie burn during the workout
Put your metabolism into overdrive, burning calories for hours after the workout
Forget hours of training – 30 minutes is all it takes
Train at your own pace with a motivated team around you driving together towards great results
Getting started?
The coach will provide various options.
Use as many breaks as you need – stop, then join in again when you're ready. Build up to use only the set rests and recoveries.
Build up from 20 minutes to the full 30 minute workout

BODYFLOW® (globally also known as BODYBALANCE)
Ideal for anyone and everyone, BODYBALANCE™ is the yoga-based class that will improve your mind, your body and your life.
During BODYBALANCE an inspired soundtrack plays as you bend and stretch through a series of simple yoga moves and embrace elements of Tai Chi and Pilates. Breathing control is a part of all the exercises, and instructors will always provide options for those just getting started. You'll strengthen your entire body and leave the class feeling calm and centered. Happy.
A MOTIVATING BLEND OF YOGA WITH TAI CHI AND PILATES
If you haven't tried yoga before then BODYBALANCE is a great introduction. If you're already doing some form of yoga you'll love the variety you get with BODYBALANCE
BENEFITS
Improve your flexibility and increase core strength while you reduce stress levels. You'll focus your mind and create a lasting sense of wellbeing and calm.
WHY IT WORKS
Controlled breathing, concentration and a carefully structured series of stretches, moves and poses to music create a holistic workout that brings your body into a state of harmony and balance.

Step into a BODYCOMBAT workout and you'll punch and kick your way to fitness, burning up to 740 calories* along the way. This high-energy martial-arts inspired workout is totally non-contact and there are no complex moves to master. A LES MILLS™ instructor will challenge you to up the intensity and motivate you to make the most of every round. You'll release stress, have a blast and feel like a champ.
PUNCH AND KICK YOUR WAY INTO KNOCKOUT SHAPE
BODYCOMBAT will train your whole body and get you fit, fast and strong. Unleash and empower yourself.
BENEFITS
BODYCOMBAT works your legs, tones your arms, back and shoulders and provides phenomenal core training. You destroy calories, develop coordination, agility and speed, and feel empowered.
JUST GETTING STARTED?
You can adjust a BODYCOMBAT workout to suit. Our instructors always show options to work at your own level. Start with 1-2 classes a week and you'll be working out like a champion in no time at all.

A fun-loving, insanely addictive dance workout. SH'BAM™ is an ego-free zone – no dance experience required. All you need is a playful attitude and a cheeky smile so forget being a wallflower – even if you walk in thinking you can't, you'll walk out knowing you can!
JUST GETTING STARTED?
Absolutely anyone of any age or fitness level can SH'BAM. Your instructor will guide you through a series of simple yet sassy dance moves, all set to a party playlist.